Welcome to the Monday Mashup, its a no frills, but all thrills meme with no commitment issues! Just fun getting to know fellow bloggers. This blog is hosted by Amy H of DJ Library Dishes and Poison Rose of Picked byPoison. All we want to do is introduce you to your fellow bloggers whom you may or may not know and share the blog love!
If you'd like to be featured, or know someone you'd like us to feature, contact either Amy or Poison. Welcome to the Meme and enjoy getting to know another blogger.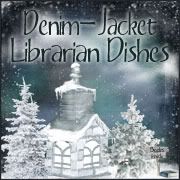 Please tell us a little bit about yourself: Who are you?
My name is Amy and I'm a reference librarian outside the blogging world.
How long have you been blogging?
I've been blogging for about two years now, and it's been great! 
Why did you get into blogging?
I got into blogging as a means of keeping in touch with one of my old roommates and a dear friend to let her know what I was reading and what I thought of the books.  Soon I started testing the waters in the blogosphere to get to know other book bloggers, and I've met some of the most awesome and amazing readers (present company most definitely included).
What are you currently reading, or what is your favorite book that you have read so far in 2012?
I'm currently reading Anew by Chelsea Fine as part of a blog tour for her Archers of Avalon series. So far it's quite intriguing.
What is your favorite feature on your blog (i.e. author interviews, memes, something specific to your blog)?
I think my favorite feature on my blog is actually the meme Top Ten Tuesday from The Broke and the Bookish.  This was one of the first memes that helped me on my networking with other book bloggers, plus I love coming up with the lists of Top 10.
Where do you see your blog in five years?
Considering how busy life has gotten in just the past few months, I hope to still be blogging even in five years. But we shall just have to wait and see when it comes to time management.
Which is your favorite post that you have written that you want everyone to read?
Such a tough question!  I think my favorite post would be my review of The Scorpio Races by Maggie Stiefvater and my review of The Girl of Fire and Thorns by Rae Carson.  I feel very proud of my reviews for both books and I enjoyed both of them thoroughly.
If you could eat dinner with any author or character, who would it be and why?
Maggie Stiefvater would definitely be my choice of author to have dinner with just because she is so funny and has a lot to say.  I met Maggie at two events in April, and that just really made my librarian/blogger year.
What literary location would you most like to visit? Why?
I think I would want to visit Seattle, Washington because it has so been featured in books for several genres I read.  It has the feel of a city of mystery and even the supernatural, plus I've always wanted to go see the EMP Museum and their Science Fiction Hall of Fame.
What is your favorite part about the book blogging community? Is there anything that you would like to see change in the coming years?
Hands down, my favorite part of the community is the community!  I've met some great people through the book blogging community both local and long-distance that I can just feel free to talk about books or almost anything.  It's also helped introduce me to more of the local resources I have around my location, such as the fabulous independent bookstores.  I guess the only thing I would like to see change is having less fracas among the community.  We are people who love books and like to share our opinions with other book lovers.  It's best to keep this saying in mind: "Peace, love, and books."  That's all bloggers really need.  Oh, and chocolate and coffee or tea.
Have your reading tastes changed since you started blogging? How?
Oh, yes, my reading tastes have changed.  I'm reading much more young adult literature than I was when I first started blogging, and that's just fine with me.  The only thing I'm hoping to do is start reading more paranormal and urban fantasy adult books.  I've been acquiring quite a pile of paperbacks that is in need of some attention.
And about you:
Tell us three non-book-related things that everyone reading your blog may not know about you.
I'm a martial artist and have studied two different styles, Soo Bahk Do (Korean style) and Aikido (Japanese style). I'm still a horse-crazy girl and love to ride whenever I can, though it's been awhile since the last time I've ridden. I'm fascinated by Japanese culture and hope to go to Japan someday.
What do you like to do in your downtime (besides read of course)?
Dabbling.  No, seriously, I have quite a few other interests besides reading.  I love to write, bake, play video games, watch movies, go and visit my uncle's farm and see the horses, go shopping.  There's a lot of things I've dabbled in, but reading, writing, and baking are my usual standard interests.  While I don't have anything completed, I'm slowly working on two different in-progress stories, so we will definitely see where those go.
If you were given a break to do one thing on your "bucket list" what would you do?
Write and publish a novel. The problem is that this would take a long break to do since I sometimes have trouble focusing.
If you went to your dream vacation spot where would we find you?
Probably in either Germany (preferably in winter) or Japan.
What are some of your hobbies and interests you enjoy?
Reading (of course), baking and trying new confectionaries, horseback riding, gaming, and writing.
Flash Round
Cake or pie?
Cupcakes! Or mini-pies! Either way is a win.
Coffee or tea?
Coffee in the morning and tea in the afternoon or evening. ;)
Beach or mountains?
Mountains because I love the snow and forested areas.
Night owl or morning dove?
Morning dove when it comes to library work but night owl when it comes to writing.
Thanks so much for sharing Amy. Its always fun to chat with fellow friends/Blogging buddies. And you're the awesomest! *HUGS*