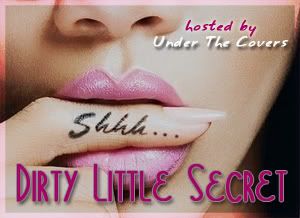 Dirty Little Secret is a weekly meme hosted by
Under the Covers
. Every Thursday we get to know other bloggers and our readers more intimately by asking them a question hoping to reveal their dirty little secrets. We hope that you will all join us!
To participate in the meme all you need to do is:
Be a follower of Under the Covers.
Create a post in your blog taking the meme image (code above) and copy instructions.
Answer the question proposed! This can be done in any way you like, post a video, write a post etc.
Then add your link below.
Non-bloggers: We want to hear from you as well!!! Let us know your answer in the comments!
We hope you join us and let us know your Dirty Little Secrets!
"Book abuse! Whats the worse thing you've done to a book?"
I'm probably a bit like Annie, when a book is so tightly bound that I can't actually read the book, I will break some of the binding, but not the way she does. I break it from the inside by opening it and then putting a BIGGER book (think dictionary) on top of it for a while. Otherwise I'm the type that is really bad about books with paper jackets, like my hardcover copy of Julie Kagawa's Immortal Rules I have at home. The jacket has some tears and rips around the edges and it's a little frayed. I have been better about keeping it safely tucked away lately so it won't get battered anymore.