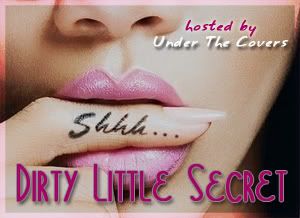 Dirty Little Secret is a weekly meme hosted by Under the Covers. Every Thursday we get to know other bloggers and our readers more intimately by asking them a question hoping to reveal their dirty little secrets. We hope that you will all join us!
To participate in the meme all you need to do is:
Be a follower of Under the Covers.
Create a post in your blog taking the meme image (code above) and copy instructions.
Answer the question proposed! This can be done in any way you like, post a video, write a post etc.
Then add your link below.
Non-bloggers: We want to hear from you as well!!! Let us know your answer in the comments!>
We hope you join us and let us know your Dirty Little Secrets!
"You have been viciously attacked, but then saved by the tall, dark vampire of your dreams; however, he has had to change you into one of the blood sucking denziens of the night to save your life. After realizing that your favourite snack is now going to be a sip of O negative, what food do you begin to think you will lose your immortality for?"
Very intriguing question! I can't name a specific food exactly, but anything spicy and HOT will be sorely missed by me. I've always been one who wants to put Sri Rancha hot sauce on most anything bland, *shudders* that is bad stuff when your food tastes like cardboard, or worse. From fried rice to even Chili I add a bit of the red hot saice to give it the kick I crave, plus I bet many of you didn't know that adding some hot spice to your food is said to help decrease your appetite!! Not like I need it *snort*, but it makes me want to keep eating and enjoy the food all that much more, and I'll definitely savor the burn!