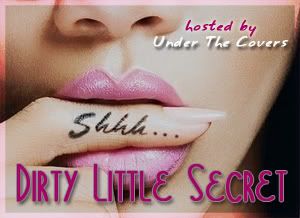 Dirty Little Secret is a weekly meme hosted by Under the Covers. Every Thursday we get to know other bloggers and our readers more intimately by asking them a question hoping to reveal their dirty little secrets. We hope that you will all join us!
To participate in the meme all you need to do is:
Be a follower of Under the Covers.
Create a post in your blog taking the meme image (code above) and copy instructions.
Answer the question proposed! This can be done in any way you like, post a video, write a post etc.
Then add your link below.
Non-bloggers: We want to hear from you as well!!! Let us know your answer in the comments!>
We hope you join us and let us know your Dirty Little Secrets!
"Which paranormal creature do you wish would "come out of the closet" and reveal themselves to the real world?"
This was a hard choice until I really thought about which Paranormal creature I have always been intrigued with. Many of you might think I would instantly go Vampire as I do have a love affair with their ethereal beauty, charm, and of course their powers, however there is another whom still captures me so completely that my love affair soon is completely forgotten.



The Siren

There is very little written about these creatures from Greek mythology. We know some of what they might look like as described as either mermaid-like or winged creature. It was told that their voices lured ships that rocked and lulled off their coasts to their doom off their homes rocky shores. Some go as far as saying that those who fell to the siren were used to build up their island home, made up of their bones. *shudders*

I like to think of them as the winged creatures with the angelic, entrancing voices of song. They to had their own kind of ethereal beauty which lured men to their deaths, but not on purpose, but to find a mate, only to find that when they lured the men to them the men were doomed to perish off the coasts, leaving the sirens to forever find a way to break their curse and find happiness.