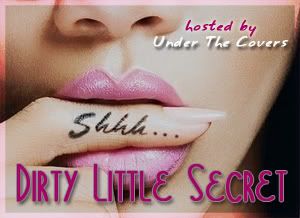 Dirty Little Secret is a weekly meme hosted by Under the Covers. Every Thursday we get to know other bloggers and our readers more intimately by asking them a question hoping to reveal their dirty little secrets. We hope that you will all join us!
To participate in the meme all you need to do is:
Be a follower of Under the Covers.
Create a post in your blog taking the meme image (code above) and copy instructions.
Answer the question proposed! This can be done in any way you like, post a video, write a post etc.
Then add your link below.
Non-bloggers: We want to hear from you as well!!! Let us know your answer in the comments!>
We hope you join us and let us know your Dirty Little Secrets!
""You are a kick ass chick, ready to face the night and kill some nasty vampires. You have your leathers on, your sidekick is ready... What is your weapon of choice?""
I'll be one to admit, I want technology on my side like Violet here. I want guns and kitana's to materialize when selected and have unlimited numbers at my disposal. It would easily help overcome being outnumbered and even my odds of survival.