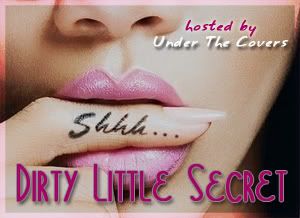 Dirty Little Secret is a weekly meme hosted by
Under the Covers
. Every Thursday we get to know other bloggers and our readers more intimately by asking them a question hoping to reveal their dirty little secrets. We hope that you will all join us!
To participate in the meme all you need to do is:
Be a follower of Under the Covers.
Create a post in your blog taking the meme image (code above) and copy instructions.
Answer the question proposed! This can be done in any way you like, post a video, write a post etc.
Then add your link below.
Non-bloggers: We want to hear from you as well!!! Let us know your answer in the comments!
We hope you join us and let us know your Dirty Little Secrets!
"Half the year has gone by already!
What books have recently made you cry?
Oh Geez! What good romance novel hasn't made me cry at some point. However, recently it was Faythe Reclaimed by Lisa Sanchez that got my heart torn apart. Watching Gabe have his love torn away from him ,not once, but TWICE was pure torture! I cried for his as she was stripped away with the snap of the villains fingers and found again, hurt and unaware of who or where she was. And lastly I cried when they got their HEA. *le sigh* True unbridled love.