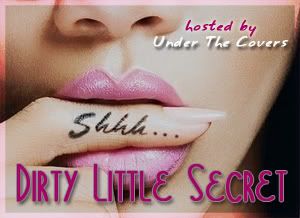 Dirty Little Secret is a weekly meme hosted by
Under the Covers
. Every Thursday we get to know other bloggers and our readers more intimately by asking them a question hoping to reveal their dirty little secrets. We hope that you will all join us!
To participate in the meme all you need to do is:
Be a follower of Under the Covers.
Create a post in your blog taking the meme image (code above) and copy instructions.
Answer the question proposed! This can be done in any way you like, post a video, write a post etc.
Then add your link below.
Non-bloggers: We want to hear from you as well!!! Let us know your answer in the comments!
We hope you join us and let us know your Dirty Little Secrets!
"What book would you recommend to to heat up your summer!"
Hmmm. I'd have to agree with Angela, the VET (Vampire Erotic Theatre) from Felicity Heaton is quite steamy for Vamps. I'd say that I also like the steam from Rebecca Zanetti's Dark Protector series, I've only read Hunted, but I can bet the rest as just as good! Happy reaging with whatever you choose to read!