Welcome to the Feature & Follow
Gain new followers and make new friends with the Book Blogger Feature & Follow! If this is your first time here, welcome! You are about to make some new friends and gain new followers — but you have to know — the point of this hop is to follow other bloggers also. I follow you, you follow me.
If you are new to the #FF fun, Feature & Follow Friday is a blog hop that expands your blog following by a joint effort between bloggers. Feature & Follow Friday is now hosted by TWO hosts, Parajunkee and Alison of Alison Can Read. Each host will have their own Feature Blog and this way it'll allow us to show off more new blogs!
How does this work? First you leave your name here on this post, then you create a post on your own blog that links back to this post (easiest way is to just grab the code under the #FF picture and put it in your post) and then you visit as many blogs as you can and tell them "hi" in their comments (on the post that has the #FF image). You follow them, they follow you. Win. Win. Just make sure to follow back if someone follows you!
Now to make this #FF interesting we do a FEATURE blogger. If you are interested in becoming a Feature click on the drop down link above FEATURES > Feature & Follow Friday and get on the waiting list! How do you follow someone? Well, if you have a preference, state it in your #FF post. A lot of blogs are transitioning to WordPress in which they do not have the luxury of GFC, so an RSS subscription is appreciated or if you choose an email subscription. If you don't have GFC please state in your post how you would like to be followed.It is also required, that if you participate you must follow the hosts (Parajunkee & Alison Can Read) and the two Feature blogs.
This week is PJ's 100th FF Post and to celebrate we are doing a Giveaway Hop. So Along with the Hop we were asked to do a feature on another Blogger or Book Loving friend. I choose another Blogger who I've met on Twitter and chatted with a bit... DJLibrarian @ Denim-Jacket Librarian Dishes.. or as I now call her, Amy!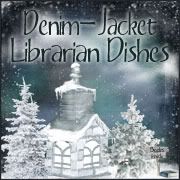 Please Help me welcome her today!!
Amy: Awww, you want to feature me on the 100th FF post? *blushes* That's so sweet!
Please tell us a little bit about yourself: Who are you? How long have you been blogging? Why did you get into blogging?


My name is Amy and I'm a reference librarian outside the blogging world. I've been blogging for about a year and a half, and it's been great! I got into blogging as a means of keeping in touch with one of my old roommates and a dear friend to let her know what I was reading and what I thought of the books. Soon I started testing the waters in the blogosphere to get to know other book bloggers, and I've met some of the most awesome and amazing readers (present company most definitely included).

What are you currently reading, or what is your favorite book you have read so far in 2012?.


Right now I'm reading Call of the Sea by Rebecca Hart as part of a blog tour to spread the word about her book about pirates and selkies. It's a tough call, but I'd have to say my favorite book of 2012 is The List by Siobhan Vivian since I read it in 2 days. It was just that great. Close runners-up are Underworld by Meg Cabot and The Girl of Fire and Thorns by Rae Carson.

What is your favorite feature on your blog (i.e. author interviews, memes, something specific to your blog)?


I think my favorite feature on my blog is actually the meme Top Ten Tuesday from The Broke and the Bookish. This was one of the first memes that helped me on my networking with other book bloggers, plus I love coming up with the lists of Top 10. Beyond that, I have to say I love doing reviews and giving readers the dish on books I've read.

Where do you see your blog in five years?


I'm hoping that I will still be blogging in five years and giving more people my dish on books. There will most likely be some updates, and I'm hoping to have more guest posts on my blog by then as well.

Which is your favorite post that you have written that you want everyone to read?


Another tough question! I think my favorite post would be my review of The Scorpio Races by Maggie Stiefvater and my review of Born at Midnight by C.C. Hunter. I feel very proud of my reviews for both books and I enjoyed both of them thoroughly. A runner-up post would be my review of Say When by Elizabeth Berg as it was a book completely out of my realm of genres. Reviewing a book in a genre you don't normally read can be difficult, but I think I expressed my opinions clearly.

If you could eat dinner with any author or character, who would it be and why?


Maggie Stiefvater would definitely be my choice of author to have dinner with just because she is so funny and has a lot to say. I met Maggie at two events in April, and that just really made my librarian/blogger year.

What literary location would you most like to visit? Why?


I think I would want to visit Seattle, Washington because it has so been featured in books for several genres I read. It has the feel of a city of mystery and even the supernatural, plus I've always wanted to go see the EMP Museum and their Science Fiction Hall of Fame.

What is your favorite part about the book blogging community? Is there anything that you would like to see change in the coming years?


Hands down, my favorite part of the community is the community! I've met some great people through the book blogging community both local and long-distance that I can just feel free to talk about books or almost anything. It's also helped introduce me to more of the local resources I have around my location, such as the fabulous independent bookstores. I guess the only thing I would like to see change is having less fracas among the community. We are people who love books and like to share our opinions with other book lovers. It's best to keep this saying in mind: "Peace, love, and books." That's all bloggers really need. Oh, and chocolate and coffee or tea.

Have your reading tastes changed since you started blogging? How?


Oh, yes, my reading tastes have changed. I'm reading much more young adult literature than I was when I first started blogging, and that's just fine with me. The only thing I'm hoping to do is start reading more paranormal and urban fantasy adult books. I've been acquiring quite a pile of paperbacks that is in need of some attention.
About me
Tell us one non-book-related thing that everyone reading your blog may not know about you.


I'm a martial artist. I studied a Korean style known as Soo Bahk Do as a pre-teen and teen, and as a graduate student I studied a Japanese style known as Aikido. While I haven't been able to find a dojo in the past couple of years after moving for my job, I'm hoping that a new local Aikido dojo will become my new training grounds.

As a librarian how does it affect your reading preferences?


While I still generally read within my preferred genres, I also have to explore other genres that my patrons would want in the collection. I know not everyone will enjoy urban fantasy, high fantasy, young adult, paranormal romance, or graphic novels, so I definitely have to keep an open mind and find books within other genres that I might attempt to read to know what to recommend to patrons.

Do you have some influence or ideas on how the public can talk to their library about expanding their selection when a book they would like is not being offered?


The only thing I can do is recommend that they fill out a Suggest-A-Title online form at least for books that do not have reviews in professional library journals. If I notice there is a gap in certain areas of the collection, I can look for suggestions from patrons as well as what is available to order for that gap. Once that is done, I can make recommendations to our collection development coordinator for possible new debuts.

How do you handle the long queues for heavily requested books if a patron asks about availability?


First and foremost, I check the system to see if we have multiple formats of books. For some titles, our collection will have them listed in the general collection, classics, large print, ebook, and audiobook. Whatever is the shortest waiting queue, I ask the patron if they mind if the book is large print or audiobook, and if they don't mind, I place the request. If there are long waiting lists, we usually recommend purchasing more copies of heavily-requested books but it always depends on the number of requests for the current items in the system.

What do you like to do in your downtime (besides read of course)?


Dabbling. No, seriously, I have quite a few other interests besides reading. I love to write, bake, play video games, watch movies, go and visit my uncle's farm and see the horses, go shopping. There's a lot of things I've dabbled in, but reading, writing, and baking are my usual standard interests. While I don't have anything completed, I'm slowly working on two different in-progress stories, so we will definitely see where those go.
And there you have a little about Amy (DJ Librarian) and her blog. Thank you Amy for being my feature this week! Thank you for the feature follow honor! :D
Giveaway is international and located is at the bottom of the post good luck to all who enter!
a Rafflecopter giveaway