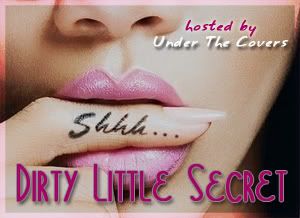 Dirty Little Secret is a weekly meme hosted by
Under the Covers
. Every Thursday we get to know other bloggers and our readers more intimately by asking them a question hoping to reveal their dirty little secrets. We hope that you will all join us!
To participate in the meme all you need to do is:
Be a follower of Under the Covers.
Create a post in your blog taking the meme image (code above) and copy instructions.
Answer the question proposed! This can be done in any way you like, post a video, write a post etc.
Then add your link below.
Non-bloggers: We want to hear from you as well!!! Let us know your answer in the comments!
We hope you join us and let us know your Dirty Little Secrets!
"Half the year has gone by already!
Tell us your favorite books so far!"
I've found quite a few great books this year. I've gotten into Contemporary Romance with Laura Kaye (Her Forbibben Hero>and Diane Alberts (Try Me). I'm hooked on Jodi Redford and many of her books, especially those involving shifters. I'm finding erotic books quite fun as well. I love Felicity Heaton's VET series and Ann Mayburn's series For the Love of Evil. I've discovered shifter books thanks to Dani Harper and her Changlings series. I'm going to take a haitus from tour hosting this fall so I can TRY and catch up on BDB, LOTU, and several other series now on my radar, I still have my auto-buy authors whose books are like sacred to me and always get bumped to the top of my TBR pile, but I have a lot I want to read so I can join all the conversations.