Welcome to the Monday Mashup (a day late, but still going, its a no frills, but all thrills meme with no commitment issues! Just fun getting to know fellow bloggers. This blog is hosted by Amy H of DJ Library Dishes and Poison Rose of Picked byPoison. All we want to do is introduce you to your fellow bloggers whom you may or may not know and share the blog love!
If you'd like to be featured, or know someone you'd like us to feature, contact either Amy or Poison. Welcome to the Meme and enjoy getting to know another blogger.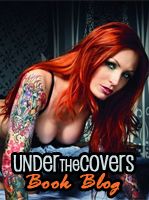 Please tell us a little bit about yourself: Who are you?
Thank you Sara for having me over. I am honored that you thought of me for this post on your blog! I am addicted to romance books and I co-blog for Under the Covers Book Blog. I have found the love for reading late in life and now trying to devour as many books as I can.
How long have you been blogging?
I started blogging about a good year now and have been enjoying it since.
Why did you get into blogging?
I started getting book recommendations from Goodreads and started to review them there myself. From there I met my co-bloggers and they invited me to join them. I found it fun, especially doing it with good people who share the same interests.
What are you currently reading, or what is your favorite book that you have read so far in 2012?
I am currently reading: The Care and Feeding of an Alpha Male by Jessica Clare. I'm enjoying this one a lot. I have a lot of favorite books this year and the one that come to mind now is Darynda Jones' Third Grave Dead Ahead.
What is your favorite feature on your blog (i.e. author interviews, memes, something specific to your blog)?
I have no specific favorite on our blog. I love pretty much everything on there. But if I have to pick one, it would be the book reviews. I know Fran, Suz and Annie have similar taste in books and I trust their opinion. I think a lot of our followers can agree with me on that.
Where do you see your blog in five years?
Well, it is hard to predict where this blog will be in five years. But I can tell you where I'd like it to be; I would like the blog to be bigger, badder with more followers and more authors to come by with great giveaways. I wish that Fran, Annie, Suz and I stay exactly where we are…co-bloggers and good friends.
What literary location would you most like to visit? Why?
RT 2013 Convention. From what I hear this convention is mostly focused on the readers rather than authors/publishers. I also hear that J. R. Ward is there every year and I would love to meet her.
What is your favorite part about the book blogging community? Is there anything that you would like to see change in the coming years?
I love everything about the blogging community. Most of us see eye to eye for the love of the books, reviewing and discussing them is definitely fun. And meeting the authors is one of the great perks.
Have your reading tastes changed since you started blogging? How?
Yes. My reading taste definitely changed. It's gotten darker..well, not so much darker but I think I have just been more open to other genres. There are so many great books out there no one should limit themselves. I have gone from strickly PNR and now I read UF, Contemporary, Romantic Suspense, Eroticas and my girls at UTC swear they will flip me over to the dark side and read more BDSM/MM books. I've read some light BDSM and NO M/M books but I'm open to it. :)
And about you:
What do you like to do in your downtime (besides read of course)?
That's easy, and this is the only thing that can tear me away from my reading…spending time with the fambam.
If you were given a break to do one thing on your "bucket list" what would you do?
Someday, I will tour Europe. That place is so rich in history and culture that I would love to see it all.
If you went to your dream vacation spot where would we find you?
? I'm easy. Anywhere tropical, beautiful beach and a 5 star resort. Nothing can beat good service in paradise. =)
Flash Round
Cake or pie?
cake
Coffee or tea?
Coffee
Beach or mountains?
beack
Night owl or morning dove?
Night Owl
Thanks so much for sharing Ang. Its always fun to chat with fellow friends/Blogging buddies. And you rock! *HUGS*