Welcome to the Monday Mashup. This is a no frills, but all thrills meme with no commitment issues! Just fun getting to know fellow bloggers. This blog is hosted by Amy H of DJ Library Dishes and Poison Rose of
Picked byPoison
. All we want to do is introduce you to your fellow bloggers whom you may or may not know and share the blog love!
If you'd like to be featured, or know someone you'd like us to feature, contact either Amy or Poison. Welcome to the Meme and enjoy getting to know another blogger.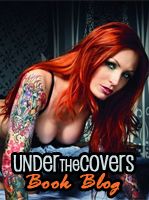 Please tell us a little bit about yourself: Who are you?
My name is Annie and I'm a blogger/reviewer at Under the Covers Book Blog. I also review for FreshFiciton.com as well. I live in Canada and I am an avid reader. My love for David Gandy is well documented. You can stalk me on Twitter at @AnnCraven – It's okay, I like it.
How long have you been blogging?
I've been blogging for a year and a half approximately. So still relatively new.
Why did you get into blogging?
Well, I used to review books on Goodreads just for fun, telling friends about the books I've read and why I loved them. From that, many of my other friends started blogging and it seemed like the next logical step. When we first started UTC, we just wanted to spread the word about our favorite books and have some fun in the process!
What are you currently reading, or what is your favorite book that you have read so far in 2012?
I am currently reading THE SEDUCTION OF ELLIOT MCBRIDE by Jennifer Ashley. This is a December 2012 release and omg, it's just amazing! Highland Pleasures is one of my favorite series and Ashley pens a fantastic story for Elliot! He's the newest addition to my hottie harem ;).
My favorite book I've read this year is probably Tiffany Reisz's The Original Sinners. Both THE SIREN and THE PRINCE blew my mind. They are definitely not books for the lighthearted. But I think more people should try SWEET AS SIN by Inez Kelley too. That book is amazing!
What is your favorite feature on your blog (i.e. author interviews, memes, something specific to your blog)?
I love doing our Reading On the Darkside posts. They're always so fun and we do a lot of them together. It's cool to put faces to our favorite characters and seeing how our opinions differ from one another. We may be casting the same character, but we each picture vastly different people. It's also nice when we get input from the Maidens.
Where do you see your blog in five years?
Oh, gosh… Hmm, hopefully bigger and better? We're always trying to come up with something new and different for the Maidens, hoping that it sets us apart from other blogs. I'm lucky to be doing this with a great group of girls so I guess we'll just have to see!
Which is your favorite post that you have written that you want everyone to read?
NO CLUE. I guess we just hope that people read our reviews first and foremost. I love it when people come up to me and tell me they loved the book I recommended or reviewed on the blog.
If you could eat dinner with any author or character, who would it be and why>?
Hands down, I'd pick Karen Marie Moning. I'm a huge fan of both her Fever series and her Highlanders. I think if I could pick her brain for a night, I would be in complete bliss. She writes so well and with such heart that I think readers are helpless but to fall prey to her every whim. She writes, I devour – It's that simple.

And imagine if Barrons was present at the dinner table? *thud*
What literary location would you most like to visit? Why?
Tough question! I have absolutely no clue. But I did stumble upon this picture of the Long Room of the Trinity Library in Dublin, Ireland. It looks so enchanting, like something out of my favorite book!
But if we're talking hypothetically, imagine stepping into the Brotherhood mansion in J.R. Ward's BDB series!!! I think I would squeal with excitement and run around the whole place, screaming, "I want to be a shellan!" stopping only to grab a Brother and lock myself in a room with him.
What is your favorite part about the book blogging community? Is there anything that you would like to see change in the coming years?
My favorite part has to be conversing with other readers and bloggers. Reading is very much a solitary act, but when you get the chance to talk to someone else about books, it becomes something more. You can create excitement, joy and anticipation. It can be an uplifting experience.
Have your reading tastes changed since you started blogging? How?
Yes and no. I think in a way it has changed a little bit. I think I've become more open to books and authors and genres that I wouldn't have tried if it weren't for blogging. But at the same time, I know what I like and what genres fit me the most so if I'm in need of a comfort read, I know what to turn to. If I'm feeling more adventurous, then I'll try something new.
I went from reading a lot of Young Adult before blogging and only about a year before I started blogging did I start reading Romance and Urban Fantasy books. I still haven't gotten over this phase and I doubt I ever will. I have been reading more extreme BDSM books and have still been enjoying my M/M books. My curiosity has led me to more extreme examples of my favorite genres.
And about you:
Tell us three non-book-related things that everyone reading your blog may not know about you.
This is such a hard question! I'm so boring and uninteresting!
I had a Mohawk once. And not the wussy kind where you just slick down the sides and spike up the top. I had the sides shaved down and everything! I did it because of a dare (and you know I never turn down a dare!) and when it grew out, I had this fugly bowl-cut.
I'm clumsy. Leave me alone by myself and something bad is bound to happen.
The Notebook makes me cry. Every. Time.
What do you like to do in your downtime (besides read of course)?
I used to paint a lot in my free time before I got into reading. Growing up, I wasn't really a big reader and used to paint and sketch a lot. But now, with all the book series I've been trying to read, that leaves no time for painting anymore.
If you were given a break to do one thing on your "bucket list" what would you do?
Write a book.
If you went to your dream vacation spot where would we find you?
A beach somewhere, with David Gandy rubbing suntan oil into my skin ;P
Flash Round
Cake or pie?
cake
Coffee or tea?
Coffee
Beach or mountains?
Definitely the beach! Mountains and I don't mix well.
Night owl or morning dove?
Night Owl. I'm grumpy in the mornings.
Thanks so much for sharing Annie. It was fun to pick you mind and see if I could stump you! *grins* I have to agree a litte David Gandy is nice eye candy for all ladies. ;-)
Thanks so much for having me!!!!