Welcome to the Monday Mashup. This is a no frills, but all thrills meme with no commitment issues! Just fun getting to know fellow bloggers. This blog is hosted by Amy H of DJ Library Dishes and Poison Rose of
Picked byPoison
. All we want to do is introduce you to your fellow bloggers whom you may or may not know and share the blog love!
If you'd like to be featured, or know someone you'd like us to feature, contact either Amy or Poison. Welcome to the Meme and enjoy getting to know another blogger.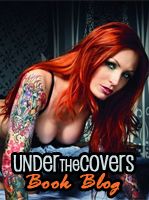 Please tell us a little bit about yourself: Who are you?
Hi everyone and thanks Sara for inviting me over!! Well I'm Francesca and I blog over at Under the Covers. I'm a 29 book addict, animal lover, sometimes health nut and newly engaged. I am originally from Italy, grew up in Panama (yeah the country), lived in many cities of Florida and currently trying to adapt to life in New York (after moving here three years ago)
How long have you been blogging?
I've been blogging for about a year and a half. We started Under the Covers in May 2011. Wow, time flies!
Why did you get into blogging?
It seemed as if all of my friends at the time had started a blog and were having fun with it. After much resistance to the idea we all jumped in with a full commitment to it and now we are having a great time!
What are you currently reading, or what is your favorite book that you have read so far in 2012?
Hmmmm Fave books is a hard question because I'll have to think about it. But I can tell you a few WICKED AS THEY COME by Delilah S. Dawson because it was amazingly unique. The RESCUE ME series by Kallypso Masters because it breaks my heart one book at a time. The Unbound series by Rachel Vincent is one not to miss!! I also discovered some amazing authors this year: Katie Porter, Carrie Lofty, Tessa Dare, Roni Loren, Tori St. Claire, Vivian Arend, Emma Lang. I have also taken a step to the wild side and started reading m/m this year, after the peer pressure of some good friends. I am loving Damon Suede, Anne Tenino and Daisy Harris.
If you could eat dinner with any author or character, who would it be and why>?
Author… Lorelei James. I think she's amazing and a lot of fun. Characters: John Matthew, Blay and Qhuinn from BDB. And then we can have some after dinner fun ;)
What literary location would you most like to visit? Why?
Caldwell, New York. Why? Because the brothers are there and John Matthew has to meet me so he realizes that I'm his true shellan.
Hmm.. That sounds like what Annie said last week. What is your favorite part about the book blogging community? Is there anything that you would like to see change in the coming years?
I love the whole book community. Bloggers and readers alike. I think the book blogging community is pretty supportive of each other, which I don't think was the case when we started blogging. I do think that sometimes people that have any type of following should watch what they say because I've seen bloggers and authors alike make themselves look bad. Social media is a marketing media and I think people should treat it that way. And readers and the book community in general because I have so much fun every time I attend a romance book convention! You guys are awesome and so much fun!!!
Have your reading tastes changed since you started blogging? How?
Wow yes! My reading tastes were changing even before I started blogging because I think as time passes, your tastes on everything change. Reading is no different. Sometimes I cringe at my ratings for books I read a few years ago. But I think blogging has changed them because it exposes me to authors or books that I would normally not have read.
And about you:
Tell us three non-book-related things that everyone reading your blog may not know about you.

I used to love horror movies, but now I can't stomach them. Yeah, I turned into a wuss.
I don't like sweets of pretty much any kind. I'd much rather eat some bread or cheese.
You can usually find me with a drink in my hand.
What do you like to do in your downtime (besides read of course)?
Right now I'm having the best time with home décor! I just moved into my new house a couple of months ago and have been doing some furniture shopping and now more recently redesigning rooms to get remodeled. Yes, I'm addicted to the Do It Yourself channel, all the Extreme Makeover, Yard Crashers, Kitchen Crashers, etc… Ohhhh and I LOOOOOOOOVE The Voice.
If you were given a break to do one thing on your "bucket list" what would you do?
Damn…. I've always wanted to skydive but as time goes by I realize I could never do it. So I'd have to go with taking an RV trip through the castles of Europe. My mom did it when she was first married and I would love to do the same, sounds and looked like it was so amazing.
If you went to your dream vacation spot where would we find you?
Usually I'd say anywhere with a beach BUT since this is DREAM vacation I'm going to go with AUSTRALIA. I've always wanted to go there.
Thanks so much for sharing Francesca. It was fun to pick you mind and see if I could stump you! *grins* I'm going to be more like toy and not like sweets after I'm done on my diet, but its for the bettering of my health. Congrats on your engagement!!!
Thanks so much for having me!!!!