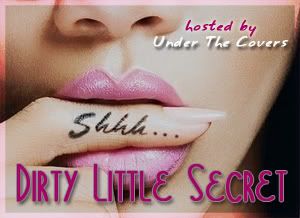 Dirty Little Secret is a weekly meme hosted by
Under the Covers
. Every Thursday we get to know other bloggers and our readers more intimately by asking them a question hoping to reveal their dirty little secrets. We hope that you will all join us!
To participate in the meme all you need to do is:
Be a follower of Under the Covers.
Create a post in your blog taking the meme image (code above) and copy instructions.
Answer the question proposed! This can be done in any way you like, post a video, write a post etc.
Then add your link below.
Non-bloggers: We want to hear from you as well!!! Let us know your answer in the comments!
We hope you join us and let us know your Dirty Little Secrets!
"Who is your favorite alpha and second-in-command team?
Now Here is where I lack in experience as well. Many books I have read thus far have been M/F H/H books, not many have had strong second-in-command characters. As I believe Annie said, Rapahel and Dmitri come in to my mind...however I also saw Venom in the position as he seems to be watching after Elena through and through.

If anyone has a good recommendation of stories with the strong alpha and second-in-command I'd love to hear it and add them to my expanding TBR Pile.