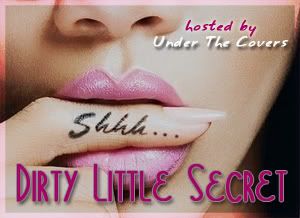 Dirty Little Secret is a weekly meme hosted by
Under the Covers
. Every Thursday we get to know other bloggers and our readers more intimately by asking them a question hoping to reveal their dirty little secrets. We hope that you will all join us!
To participate in the meme all you need to do is:
Be a follower of Under the Covers.
Create a post in your blog taking the meme image (code above) and copy instructions.
Answer the question proposed! This can be done in any way you like, post a video, write a post etc.
Then add your link below.
Non-bloggers: We want to hear from you as well!!! Let us know your answer in the comments!
We hope you join us and let us know your Dirty Little Secrets!
"So it's V-Day. You are all dressed up in your tiniest, yet most expensive undies (go figure!), got a dress on your mother would definitely disapprove of and enough condoms to keep a football team happy, where are you going and which of your favourite book boyfriends are taking you there?"
Hmm...First I'm making this an extended holiday and having my way with all of them. *wicked grin* First off Lucien DeMarco is taking me out for a show at the local theater and dinner at a nice restaurant...he's getting a "bite" later *winks*. After dinner it's back to his renovated home in Detroit where I get the grand tour and then he gets to have a bite while the scanty little dress slowly comes off, along with anything else.

Next on my list is my only human boyfriend - Caden Grayson, who has generously offered to let me have my way with him and all his glorious tattoos tonight. *fans self* Oh my! All the ink I get to lick and suck at!!

And lastly I'm being flown in private jet to Russia to met with Aleksandr Nemov for a tour of his majestic castle ... and then a tour of him.. any angle I desire. *beams *

That is my extended date for Valentine's day. :-)