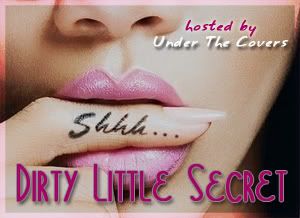 Dirty Little Secret is a weekly meme hosted by
Under the Covers
. Every Thursday we get to know other bloggers and our readers more intimately by asking them a question hoping to reveal their dirty little secrets. We hope that you will all join us!
To participate in the meme all you need to do is:
Be a follower of Under the Covers.
Create a post in your blog taking the meme image (code above) and copy instructions.
Answer the question proposed! This can be done in any way you like, post a video, write a post etc.
Then add your link below.
Non-bloggers: We want to hear from you as well!!! Let us know your answer in the comments!
We hope you join us and let us know your Dirty Little Secrets!
"If we were unforgivably rude and snatched your purse from you, what would we find inside? "
Oh Geez! My purse is always a damn mess...

Mines, not exactly this same color, but design and cross are! Hey! I've been looking for those (sunglasses). My Kindle is usually in there, so is a small pocket calendar, my android phone, my iPod Touch for music at work, Pack of Kleenex, 2 pens, a cleaning cloth for my phone and kindle screens, change is scattered across the bottom, a lip stick, mirror compact, lip gloss, Ed Hardy travel perfume (see below for pic), car keys of course and some feminine stuff for emergency tucked in the lining pocket. A girl can never go out unprepared!

And there you have the contents of my purse.