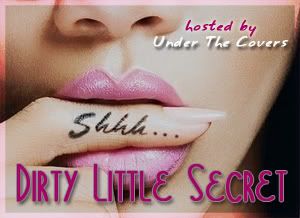 Dirty Little Secret is a weekly meme hosted by
Under the Covers
. Every Thursday we get to know other bloggers and our readers more intimately by asking them a question hoping to reveal their dirty little secrets. We hope that you will all join us!
To participate in the meme all you need to do is:
Be a follower of Under the Covers.
Create a post in your blog taking the meme image (code above) and copy instructions.
Answer the question proposed! This can be done in any way you like, post a video, write a post etc.
Then add your link below.
Non-bloggers: We want to hear from you as well!!! Let us know your answer in the comments!
We hope you join us and let us know your Dirty Little Secrets!
"What's the sexiest item of clothing a hero can wear in a novel?"
OH my!I have to agree with most who have said a bare and chiseled chest with low-hung jeans. What those do for any woman. *fans self* Sometihng about a guy taunting you with what lies below his pant line is always welcome.

Notice its the same guy on both covers...but damn how he leaves much to be discovered!