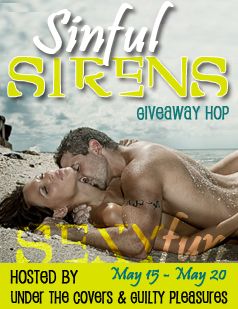 Welcome to the hop!
Thanks to Under the Covers Book Blog and Guilty Pleasures Book Reviews for hosting this SINFUL giveaway hop!
Hello all you sirens! I have a fun giveaway as part of the hop this year. I'm giving away two SCORCHING hot reads which definitely make any gal hot!
Up for grabs are an eBook of either Daughter of Lust by Ann Mayburn or Just Gotta Say by Laura Kaye. Both are available through Amazon US and Amazon UK. One lucky winner will get their first choice and the next gets the other book not chosen by the main winner.
Natalia Shura, the daughter of Asmodeus, High Prince of Hell and Keeper of the Deadly Sin Lust, is unaware of the nature of her birth. When her demonic side begins to awaken, her world becomes dominated by dark passions and deadly cravings. Natalia fears she is losing her mind. But her love has been foretold as the only thing that can stop Belal and his allies, and they will do anything to prevent her ascension.

Facing assassins, avenging angels, Hell's deadly politics—and her real father—Natalia must accept the love of more than one man and embrace her demonic heritage as a Princess of Lust. If she doesn't, all that she cares about will be
Callie Davis stumbles upon two of her three male roommates in a surprising, molten-hot midnight tryst and discovers a side of herself she never knew existed. Desire to play with them grips her, and she can't stop fantasizing about having multiple men, particularly her three long-time best friends.

Callie is thrilled when a guys' night out gives her the perfect opportunity to recreate her fantasy, with the help of a threesome porn video and a bag of sex toys. That is, until Lucas, Jack and Noah return early and catch her in the act. More than anything, the guys want to make her fantasy come true. But Callie has a secret, and she can't help wondering if being with all three men will risk the future she's always wanted with one of them.

As three strong sets of hands caress and undress her, Callie surrenders to desire, because sometimes you just gotta say...yes.
You can get up to 5 points toward your entry by filling out the rafflecopter form below. Don't forget to drop by the other blog hosts and enter their giveaways too! Tons of prizes to be shared!
a Rafflecopter giveaway
Good Luck and have fun!