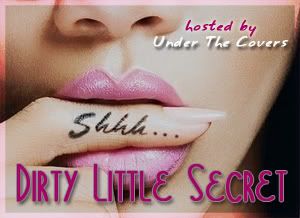 Dirty Little Secret is a weekly meme hosted by
Under the Covers
. Every Thursday we get to know other bloggers and our readers more intimately by asking them a question hoping to reveal their dirty little secrets. We hope that you will all join us!
To participate in the meme all you need to do is:
Be a follower of Under the Covers.
Create a post in your blog taking the meme image (code above) and copy instructions.
Answer the question proposed! This can be done in any way you like, post a video, write a post etc.
Then add your link below.
Non-bloggers: We want to hear from you as well!!! Let us know your answer in the comments!
We hope you join us and let us know your Dirty Little Secrets!
"How do you go about reviewing 1 or 2 star books or books you didn't enjoy?"
As I'm in the process of finishing the book The Slippery Art of Book Reviewing I'm learning that a critique should explain what you did/did not like about the book, but not to go about it by bashing the author. Take an overall look at the book - writing style, character depth, are they realisitc, are the hero and heroine a good match, doies the plot move along, are there gaps, etc. You can have a positive/ negative review without making the author look like their writing is terrible, but letting them know that, hey this part of their story development is good, but it can be developed different can also be a learning experience for them as well. Only helping them become better and gain us book reviews some credibility in our reviews.